How To Get a Google Featured Snippet?
Featuring the quick answers to common questions, Google's Featured Snippets offer snippets of text that appear at the top of Google's search results in order to quickly answer your query.
Google tries to show the most helpful pages first, using a number of signals such as the freshness and quality of the content on the page, your website's reputation, your location and user personal search history.
Why Are Featured Snippets Important for SEO?
You don't have to rank on page 1 to get more traffic. Every search result that includes a Featured Snippet is an opportunity to rank for your target keywords.
This is done by Google showing "featured snippets", which are concise answer boxes from its Knowledge Graph. Selecting the right keywords for your target pages (aka keyword mapping) can be critical to your SEO strategy, some might even say they're the most important part.
What Are The Types Of Featured Snippets?
There are five main types of featured snippets. Each has a different format, but they all have the same goal: To help the user find the information as fast as possible. 
Each category has more division, We will cover the first category in detail. 
The Definition Box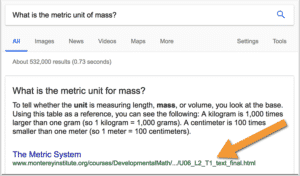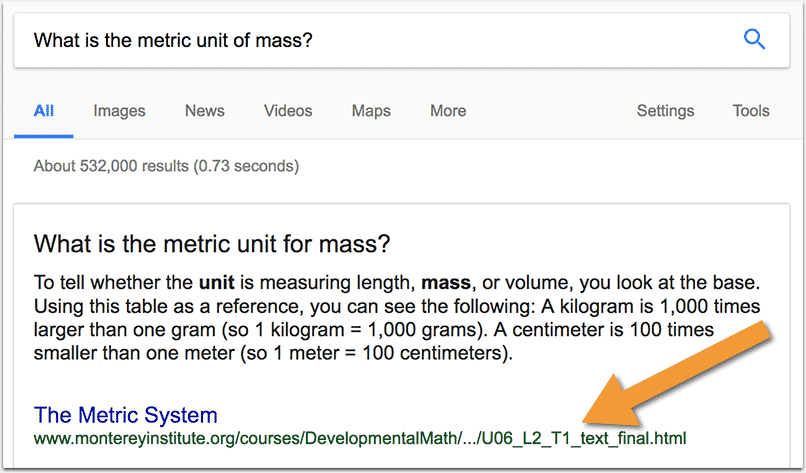 A definition box is a special type of search result that includes additional structured data around the organic listing which allows it to stand out in search engines like Google.
This provides more information about the site, increasing click-throughs and engagement levels. The snippet also needs to include why it's unique or useful (not just that it's from Wikipedia) in the first sentence.
The Table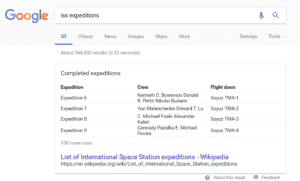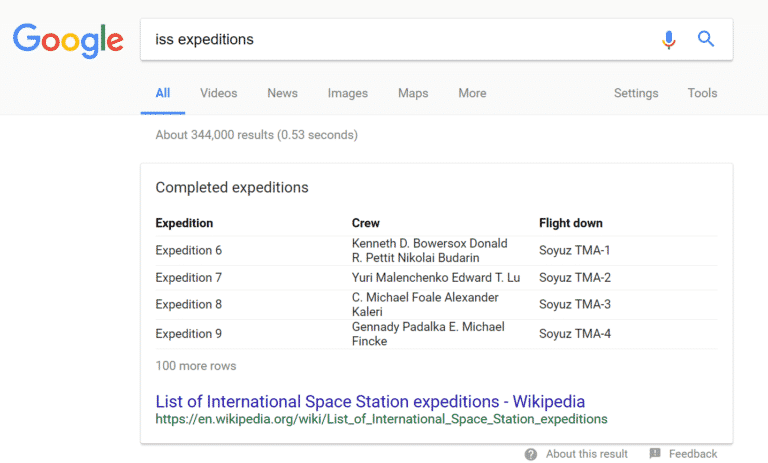 A table is a type of search result that includes datasets from the listing and shows that in a tabular view. This kind of listing allows the user to see the datasets before opening the web page.
This might increase and decrease your page views depending on the dataset. If it is a small dataset then it might decrease and if it's a big dataset then it might increase. 
The Ordered List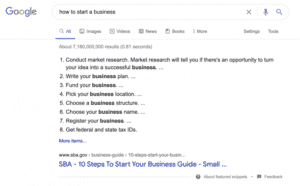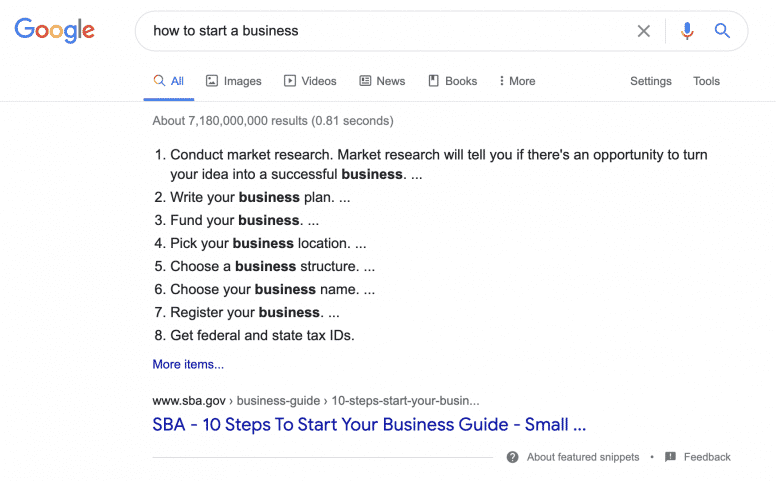 An ordered list is a type of search result that mainly shows processes like "How to start a business". This kind of listing is used for telling the user how to do something.
It helps the user to see what needs to be done and if they have more details they go to the website to know everything in detail.
The Unordered List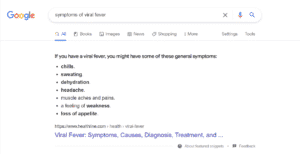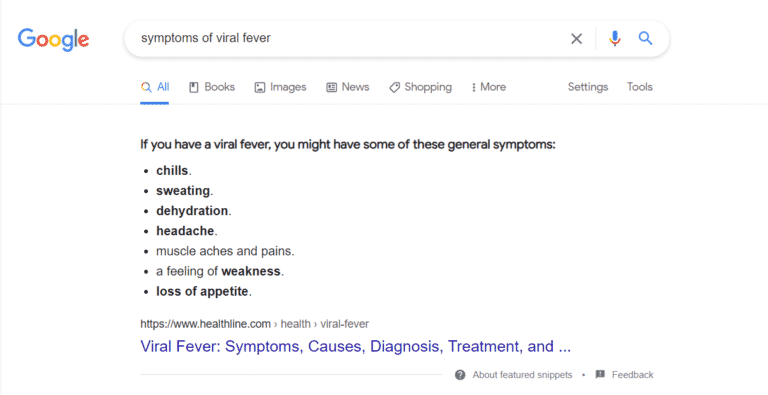 An unordered list is a type of search result that mainly shows processes like "symptoms of viral fever". This kind of listing is used for telling the user a list.
It helps the user to see what needs to be done and if they have more details they go to the website to know everything in detail.
The Video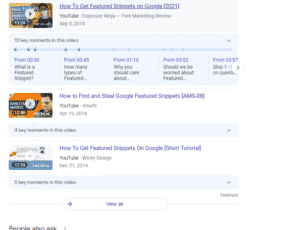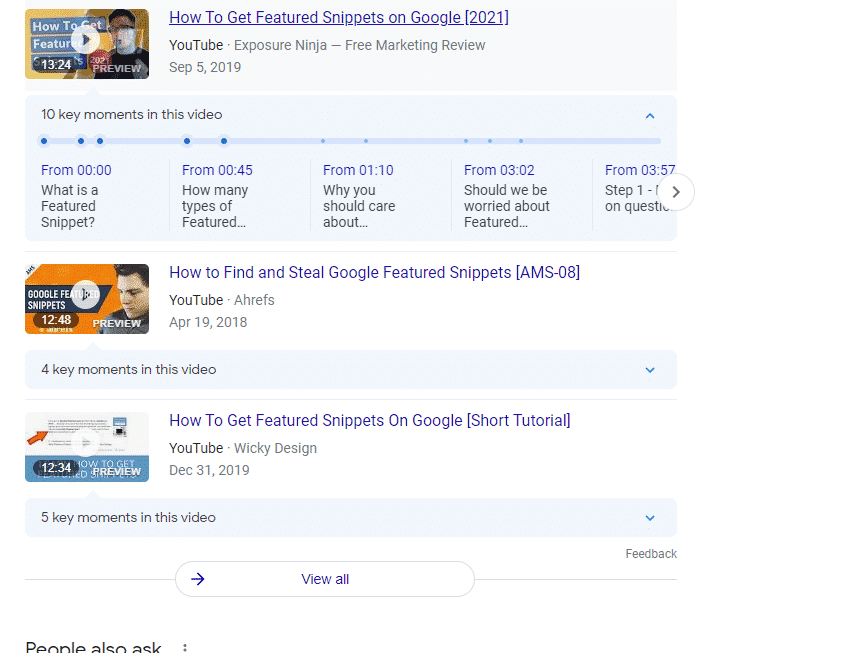 YouTube is one of the largest search engines in the world, so it's no wonder that video featured snippets are something else you'd want to try and rank for.
If a video provides the best answer for a user's query, it will include the video in a featured snippet. Video featured snippets can be useful for "how-to" queries.
How to Optimize For Featured Snippets?
There's no way to guarantee that Google will use your page as a featured snippet. Google's algorithms  consistently analyze snippets (and search rankings) to see which provide the best responses to certain user queries.
What may have been answered in a list may end up being replaced by a video down the road, depending on any algorithmic changes that impact the SERP.
However, what you can do is create high-quality, targeted content that has a high chance of being chosen. Let's run through some ways you can give yourself an advantage over your competition.
Find SERPs With a Featured Snippet
If you've never tried it before, the process is pretty simple. First find a search results page that already has a Featured Snippet.
In fact, if you check the search results right now, you can see that Google already shows a Featured Snippet for [what Google wants to show]
If you want Google to send you traffic, you need to optimize your site for searches. SEMrush and Ahrefs are both keyword research tools – check them out!
Throwing a bunch of keywords around on your site will not work. You need to make sure your mapping your keywords so other pages on your domain don't hog any link juice.
Optimize For That Specific Featured Snippet
With the help of our SEO process, we can help you find the perfect marketing strategy to reach your goal. In many cases you'd like optimize for a specific featured snippet over another.
You must perform competitive analysis to check on information like their backlinks or if they have an Alexa rank. 
Optimize Your Page Around Several Long Tail Terms
Ahrefs has analyzed more than 46 million keywords in the U.S. and found that the majority of Featured Snippets showed up when people searched for long-tail keywords.
People use different phrases and words when they type voice search, so it's important to be prepared for these at all times. According to the Ahrefs study, more than 90% of Featured Snippets come from the same page in the 10 most relevant search results.
Write Objectively and Fact-Based
While there might be several types of featured snippets, one thing they all have in common is that they're fact-based. There's plenty of platforms online for you to share your opinions, but Google wants content to be completely objective when it comes to featured snippets.
Your content should also be concise and to the point. A good snippet should be easy to read and understand quickly. If your goal is to attain featured snippets, keep your content as simple as possible. Big words and confusing speech only hurt your chances. Think Middle School level writing!
Scale Your Featured Snippet SEO Efforts
When your single page is so hot, it gets picked for a Featured Snippet, you get two links instead of one. This is HUGE traffic for any business.
Just picture adding two links to your money site every time you publish an article (instead of one). And think about the fact that these are the kinds of backlinks that Google can't take away.
Let's be real. The first page of the Google results is where you want your content to appear. The first page has over 90% of the clicks.
How to Improve Google Rankings?
Optimize for Featured Snippets
Using Internal Linking
Make sure your site optimized for Google crawlers
Join high domain authority directories in your niche
Use anchor texts with your keywords you'd like to target for the page
Along with Keyword Research, don't forget to Map your keywords for each page
Image Alt Text
Optimize Meta Tags
Reach out to industry leaders in your niche and guest post for them
Analyze UX with tools like Hotjar then adjust your web design
Add interactive content to bring value to users, increased engagement and decrease bounce rate
It's a lot of hard work and dedication. But don't worry; we can make it happen with our team of marketers and copywriters.