Everyone wants their site to be ranking #1 on Google…or at least on the first page. Even though there are over 200 factors that play a part in SEO, Keyword mapping is basically your blue-print and major part of the roadmap.
Keyword Mapping is one of the most critical processes, and though many SEOs speed through this process, it is essential to plan and implement this right from the very beginning. Throughout the article, we teach you what keyword mapping is and why it's so important.
So let's dig deeper.
What is Keyword Mapping?
Keyword mapping involves assigning relevant keywords to various pages on a particular website based on thorough keyword research. This is an essential aspect of on-page search engine optimization (SEO), which will ultimately allow search engines to see the page's relevancy keeping in mind a user's search.
If someone skips the primary and basic keyword research and mapping process, it will be like shooting arrows in the dark when creating content and showing up on search engine result pages (SERPs).
The last thing you want is putting the time and effort to rank on keywords, but having the wrong page rank for the keyword you were pushing…or worse, have multiple pages split the authority of a specific keyword, pushing you out of 1st page rankings.
What does keyword mapping look like?
Depending on the software that you're using, the keyword mapping process occurs in different forms.
For example, you can checkout tools like Moz or SEMrush to find the keywords you're currently ranking on. These tools tell you how difficult it would be to rank for that specific keyword and the monthly volume for those words, making your initial "keyword research" easier as well as mapping.
From there you can simply bust out a Google Sheet or Excel and make a sheet similar to this.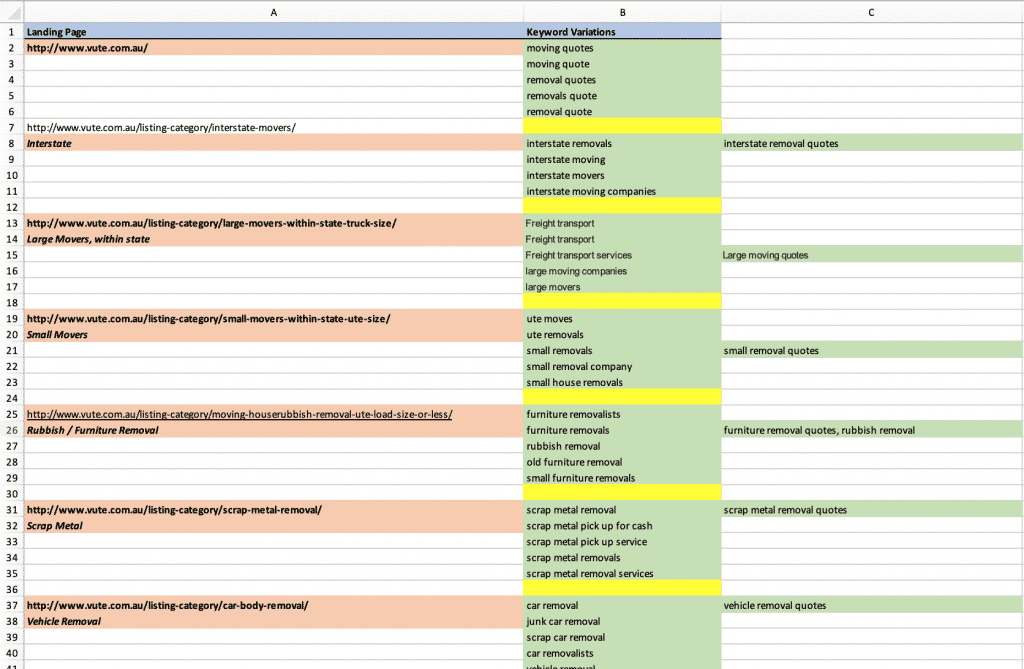 Another great method is using a flowchart program, like LucidChart. Each of these columns is assigned a specific on-page SEO element to focus on, so you can make sure that each element is aligned with your ranking goals. If you're using Lucidchart and Googlesheets, you can easily sync both sheets back and forth for further analysis.
Despite of how you decide to set up your map, it's essential to have this information in one or two centralized locations so that you can refer back to it and make changes as Google algorithms and business strategies evolve. The user needs to keep in mind that SEO results can sometimes take months to finally reach page one.
How do you start keyword mapping?
Keyword mapping, once fully understood, is simple and easy to follow. There are two steps to follow before mapping the keywords.
Keyword Research
Before even starting, you need to know what keyword you will be working with and URLs of the website. Uncovering both head and long-tail keywords will help the you create a well-planned and organized mapping document. It's not necessary to rank on every excellent keyword that you find.
During this process, you have to find opportunities and understand the industries you are working with.
As soon as you have a concrete and proper set of keywords, then you should start keyword mapping. But before the research, you must FIRST check and see where keyword are currently ranking now. Again tools like SEMrush can help you quickly find this. The keyword research is different depending on the foundation your website is currently on…meaning, is it a startup, are you ranking but has Google ranked the wrong keywords for your key pages?
Are you splitting a high volume keyword through 2 or 3 pages on your site? You may find out that combining pages may be a good idea for this situation.
Current Relevance Check
The main task of keyword mapping is that you will be assigning these keywords to pages you want to rank for. So you need to find out the most relevant page to a particular keyword.
Most of the time, there are groupings for similar keywords based on variations of positions, plurals, and synonyms that usually get mapped to the same page, saving time.
The first step to assigning the keywords is to figure out which pages are the most relevant in terms of both a human being and a search engine.
Why is Keyword Mapping Important?
Keyword mapping is essential to SEO and growth hacking because it sets a tone for the rest of your digital marketing strategy.
Firstly, it gives the content a marketing direction. When you know what people are searching for and how relevant keywords are, you can easily set out to create content that continuously provides all the users with the most value. This is literally exactly what Google wants.
Unless you're launching a new website, a keyword map will give you a solid idea of your current position in the market.
Thorough keyword research will show you ranking opportunities that can expand your business and help you reach your target audience in ways that you have never dreamt of. Whatever market you consider, it's always changing and evolving. Not to mention, proper keyword mapping will organize your whole site and provide numerous suggestions for additional pages and blog articles.
Bottom line, creating a keyword map creates a base and sets up your digital campaigns for success.
If you you have any issues creating a keyword map, shoot us an email below and let's get started!