Why are people trying so hard to show up on the first page of Google? Why not the second page or third?  I recently came across this meme about Google's second page.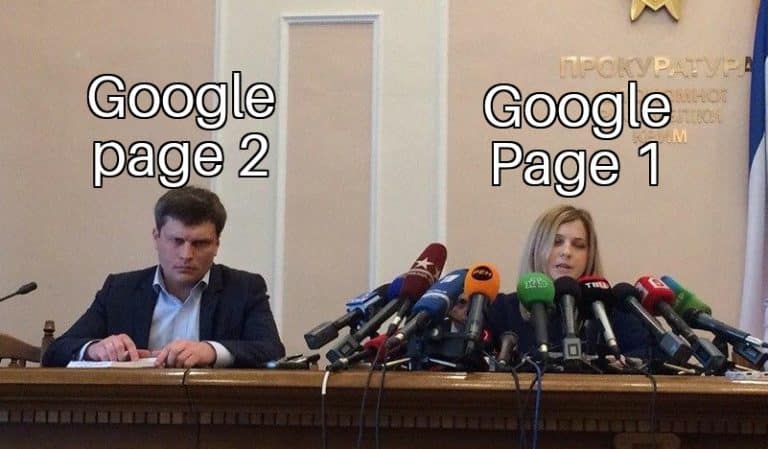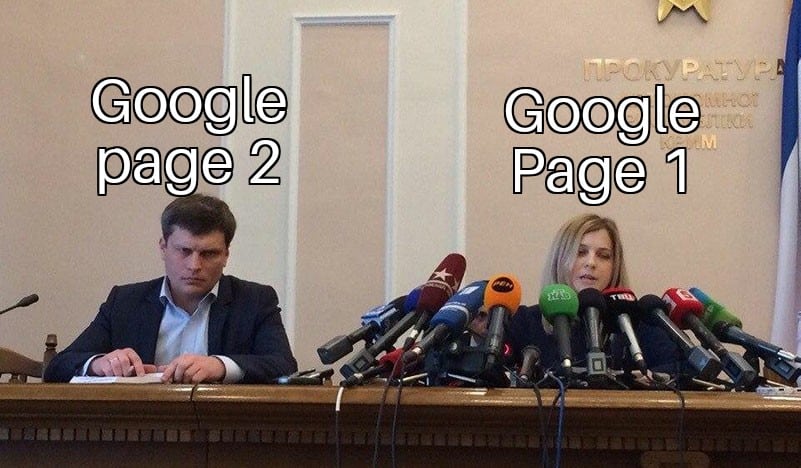 ….Well, this is not entirely wrong. Let's check out some statistics. 
Why is it so important to show up on the first page of Google?
According to SEO stats, a search engine is responsible for starting 93% of online experiences.
Currently, 81% of people tend to search their product online before buying.
Google owns the search engine space by taking up 90.01 of search engine searches.
That is a pretty big deal and that's why people live on Google nowadays. It is THAT famous.
But the most fascinating fact is, 93% of people don't search past the first page of Google
So if your goal is to be visible, it will not happen on the second page.
Now you should have a pretty good idea why it is so important to appear on the first page of Google.

How Can Your Website Be SEO Friendly?
In a nutshell, SEO means enhancing your website to appear at the top of the search engine results. In other words, build relevance and trust through Google's eyes.
To make your website SEO Friendly you should perfect these.
Google bots should be able to analyze your content and to confirm the website is in the best condition to appear on the Google search results. This is called Crawling & Indexing.
According to your title, you should provide the best content for the searcher.
Helping the search engine algorithms to take your website to the top of the search results by correcting the website's flaws.
With that being said, let's take a detailed look on optimizing our websites.
Three Main Components of SEO
Here are the 3 main categories of SEO: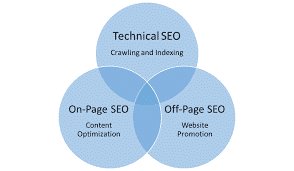 1. On-Page SEO
ON-page SEO is basically making your website content as relevant as possible for the user. But is it that easy?
How to Use Keywords
If your company is brand new to the SEO world, you should start immediately and focus on long-tail keywords rather than using short keywords.
Using specific long-tail keywords like "Small Business Payroll service in Canada" instead of "HR Software" won't pull a lot of traffic.
But, if you add them frequently in your website, you could. You are generally not up against big companies, because you are not using a general keyword. This way the traffic can be built slowly. Long-tail keywords may produce low volume, however there's a higher chance for a conversion. 
Quickly, let's go over how keyword rankings are read. As you may already know, there are 10 spots on each Google page (excluding the ad spots). In the digital marketing world, these pages are called –  Search Engine Results Page (SERPs). If you're ranked #1 on the first page of Google you're the very first organic search, If you're ranked 10th you're last on page one. If you're ranked 11th you're the first of the 2nd page of Google and so on. 
Now let's take our HR software finder campaign targeting our HR Software Finder Advisor page. Take in mind CuriousCheck launched January 2020.  
On this campaign, we are only dedicating around 10-12 SEO hours a month (our lowest package) to increase rankings last 4 months. We started pushing SEO mid February 2020 and we were ranked over 101 on all keyterms listed below (so page 10+). 
As you can see we are now on page 1 for 5 key terms, and about to close 3 more.  Here is an overview. 

Notice the tactic we used below to grab all related long-tailed keywords (mostly with low volume) to reach our more broad national key terms. We have received 665 organic clicks (non-paid ads) from these low volume key terms alone. 
Now let's take a look at the result details, as of May 2020,  we have shown huge progress and about to lock in "Software Finder" on page one, which has a volume of about 480 searches a month.
All this can be easily confirmed by searching these exact terms on Google. 

Here's a tip: Using your target keyword in the beginning can make it rank higher on Google. Then, try to add them a couple of times throughout your content, but obviously don't stuff them where they don't seem natural. 
Including related words to your content is a good approach as well. For example, if your title is about coffee, then add words such as, Filter or Beans.
Moreover, you can include other similar keywords in your content too.
Making the Content
When creating your content, remember to pick related, high ranked search options. The content can be on something like this very article that starts with How to, a step-by-step guide, a list, comparisons or reviews.
Make sure to provide a full document of what you promise in the title.
Therefore, writing unique, high quality, researched and at least a 2000 long content is a must. Because, according to Google, most of the first page content is currently around 2000 words. Also, writing more than 16 posts every month is good practice. Support them with including Infographics, Maps, Charts or Videos.
Do you Receive a Google Penalty for Duplicate Content?
One healthy tactic to use for your sites every couple of weeks is to check your content using plagiarism review tools, like SEO Review Tools. You may have no idea that your site is plagiarizing another site.
"Literary piracy is not restricted to unscrupulous webmasters that want fast, deliverable content. The writers you hire may also accidentally or intentionally copy existing text from other sources."
The reason this is so important is because Google has powerful crawlers that detect plagiarism instantly.
Typically, the safe spot is to remain at 0% plagiarism on sites/blogs, but many other sites say up to 10% is acceptable before rankings MAY be affected. Personally after some tests of our own and Neil Patel's viewpoint, no one has received an actual PENALTY, but many sites have received major decrease in rankings. Luckily this can be fixed rather quickly.
If you've been penalized or hit with a rank decrease please let us know!
Neil Patel made a great post backed by a much bigger SEO study than ours showing how since 2005 until now, the internet is increasing drastically with duplicate content even in your own websites.
An important way to save yourself from duplicate content within your own domain or other places you post your own duplicate content is to use Canonical links sometimes called Canonical Tags or Canonical URLS.
What are Canonical URLS?
A Canonical URL basically tells search engines where the original content came from.
Implementing canonical urls is generally listed in the Technical SEO section, but since we're talking about duplicate content, we'll bring it up here as well.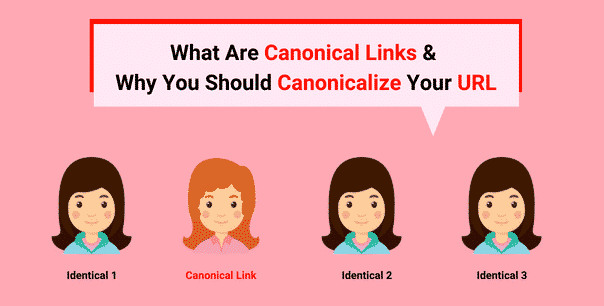 For example, if you've re-posted your blog on your site on another blog site, search engines will view this as duplicate content and you'll want to add a canonical URL to show Google where you want the SEO juice to come from.
Some blog sites like Medium, provide features for search engines to realize a re-post, while others do not.
Other examples are Directories or Listing sites, like our site, CuriousCheck and e-commerce websites with product descriptions.
Canonical tags in a nutshell, merges the page or pages together for the search engines without having to redirect the viewer.
As Yoast explains it, "Not canonicalizing your URLs is always worse than canonicalizing your URLs".
Using Internal Linking
Linking one of your website pages with another page makes the user access multiple pages at once and makes the website rank higher. This is because you're making it easier for the viewer to reach content rich areas of your site.
2. Technical SEO
Technical SEO is making your website's foundation steady. In other words, your website should be easier to access by Google and other search engines. Technical means Technical. Not your page content. But how can you make this possible?
Get your Domain specified by using either one of the www or http formats.
Avoid SEO ranking and traffic issues by configuring your Robots.txt File. This file guides search engines to crawl and index your website. Always Take a look at Google search console for errors. 
Adding breadcrumb menus to help the users to go to previous pages and home pages.
Make the website mobile-friendly.
Use tactics such as adding lowercase characters, keeping the URL short & descriptive, omitting irrelevant words, Including target keywords in the URL and using hyphen (-) to separate the words to optimize Your URL Structure.
Have a well structured navigation and a website.
Using structured data in your website to get more visibility.
Properly checking the Canonical URLs.
Long pages can be broken into shorter pages.
Build your users' trust by adding an SSL to make the website HTTPS.  PS – This will be mandatory soon!
Creatively tell the users that the page doesn't exist anymore by optimizing your 404 Page.
Guide the search engines by enhancing XML sitemap.
Make sure your Website loads faster. Conduct a site audit with CuriousCheck and we'll tell you what you need to do. 
Try to make your website multilingual. 
3. Off-Page SEO (Link Building)
Backlinking is getting other websites to mention your website's links in theirs. This not only validates your content, but pushes your content to show up on the first page on Google. Here are a few methods.
Broken Link Building is something you can do with searching for a content that is similar to yours. Then find if they have dead links. Use Check My Links Chrome Extension for this. You can nicely ask these websites to consider your content to be replaced for those dead links. If they like yours they will add it.
Guest Posting is another great option for backlinks. The tricky part is finding a genuine website with high-quality content and a high domain authority . You can find someone who belongs to your niche and find where they post theirs.
As advised by Google itself, mentioning source links in your content is a good strategy. If you write something from another website, acknowledge them. This might generate a backlink for you if your content is top-notch.
Link Roundups can be a break for you. These are blog posts with links to quality content. You can search for your keyword + roundups. Then, you can send them a friendly Email asking them to consider your content.
Say you use someone's service or a product. So, you can send your favorite well-established company a testimony. They will include your link on their site without even requesting it, if you manage to compliment their product.
Create a useful widget or tool that would benefit companys' in building trust, increased conversions, or more organic traffic.
Google My Business For Higher Ranking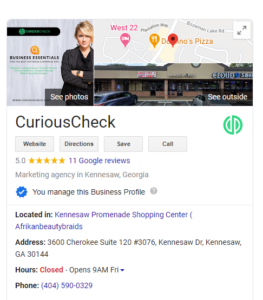 One of the most powerful business listing sites is Google My Business (GMB). Whether you're a local business or a national business, you want to sign up as soon as possible. Just make sure you take full advantage of ALL Google My Business features.    Here are the most important tips for using Google My Business:  
 Have a REAL address. You cannot have a Google My Business account with a PO Box. You MAY be able to get away with a virtual mailbox, but the terms say you cannot use them. Not to mention, virtual mailboxes are a fraction of the cost of PO Boxes and twice as efficient. If do not have an office, you can however add your home address and hide your address later. 
Add your Logo, Images, Cover pages, videos, workplace pictures
Ask at least 3 questions most your customers would ask and answer them on the Q & A section
Start asking clients, vendors, and partners for reviews. Once you have at least 3-5 reviews, your profile will show up with your ratings.
Make sure to Reply to ALL reviews and naturally throw in a a keyword or two. 
Integrate your Google My Business reviews into your website so they are spotlighted. 
Add your products, pictures, email address and their category. 
Post regularly about your results and add links to your site or e-commerce store.
Keep your business info like hours, service areas, address always updated. 
If you do all the above, you'll be amazed at how much more Google search results you will be listed under. Not to mention, it provides an extra layer of social proof.   
SEO Post Wrap-up
Although Technical, On-Page and Off-Page SEO are different from each other, they work as a team to bring your website to the top of the search results. Also, GET a Google My Business!
Working your socks off for great content and praying it to get traffic is a waste of time. Do your research and be educated. CuriousCheck has all you need to start getting ranking on the first page of Google. Whether you need SEO Consulting, premium hand-on services, or top ranking a la carte products, we got you covered!  
Being patient and using the correct strategies can stop making you dream and make you live your dream. Or should I say…live on the first page of Google.
Share on facebook Share on twitter Share on linkedin Share on email