Have an Online Search Presence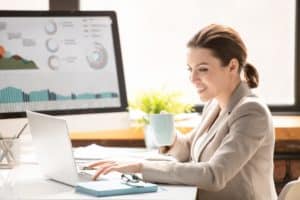 While traditional marketing can help you boost brand awareness, you can't effectively measure conversions. On the other hand, digital marketing can help you cut costs and build an online search presence to help people find you, allowing your website to passively generate leads.
You can start learning how to boost your online presence by quickly searching the keywords used often in your industry. For example, your potential clients might be searching for words such as "stockbroker" or "stock exchanges" that you can target with your digital marketing strategies. 
In Google results, you'll notice the top results are ads. These ads target you based on your location so you can see what other types of stock exchange companies are in your area. If you decide you want to invest in Google Ads, you can start immediately by using their tools to find relevant keywords and start building out a strategy with their easy-to-use platform. Anyone can use Google Ads, even if you're not experienced. You can also take an online Google Ads certification to get to understand how ads work and how to use the platform. 
When you type keywords into search engines, you might notice there will be a mix of results, including blogs, company websites, and information about the stock exchange. The search results that appear below the ads are organic, and businesses achieve rankings in search engine results based on their search engine optimization. 
Search engine optimization (SEO) is a complex marketing strategy that uses targeted keywords, backlinking strategies, and important web development techniques to ensure that content and web pages show up in search results. For example, if you want your stock exchange company to rank on Google or any other search engine, then you'll need an SEO strategy. 
When investing in SEO, it's best not to take on such a large strategy yourself. It's not a one-and-done marketing strategy; SEO is something that will have to be done consistently to ensure your website pages rank. Instead of trying to learn how to do this digital marketing strategy on your own and implementing it, it's best to work with an experienced SEO agency that has experience in the stock exchange industry to help your business grow. 
Have a Strong Website
Think of your business' website as a digital-first impression; potential clients will likely Google you before they decide to call you unless they already have a relationship with someone at your company. Because many people start doing their research of companies online, you'll need a website that not only shows up in search results but one that makes a lasting impression and even converts users into leads. 
Once a Google user clicks on your website from their search, they'll end up on a page of your website. You can ensure your site makes a good first impression and passively builds your leads by learning more about how your website is used. Utilizing Google Analytics will allow you to see which pages are the most viewed and help you convert visitors into clients. 
While your website should be professional, it should also provide a good user experience and guide your traffic through your sales funnel. Ensure you use calls to action to let your visitors know what the next steps are once they decide they want to contact you. 
Additionally, your contact information should be easy to find, and you should consider adding a form to your website that allows people to enter your funnel without the need to pick up their phones. 
Depending on your clients' needs, you may also want to provide them with a unique experience. For example, you can offer them tools to help them improve their investment strategies, such as providing investment prices to ensure they can evaluate the different stocks available for purchase. 
Create Social Media Ads
Depending on the type of clientele you have and who you're targeting, you might want to research everything you can about social media ads. Many investors use social media to learn about the different types of investments and what's going on in the industry. Based on the information you learn about your website traffic using Google Analytics and the data from clients you already have, you can choose which social media platforms will work best for you to help you target the right audience. 
Remember, you don't need to advertise on all social media platforms; if your clients use LinkedIn more than anything else, then you should only focus on LinkedIn advertising as anything else can be a waste of money. 
Build Credibility
If you want to be considered an expert that people can trust, you have to build credibility. You can build credibility in numerous ways, from publicity to responsiveness to online reviews. Your company should have a communications process to ensure that clients can be quickly and effectively taken care of. Not only that, but you might want to invest in reputation management services to help you manage online reviews and respond to them. 
In addition, a PR agency can help you build authority in the industry. By getting your business or people within the organization featured in industry magazines, you can start building credibility with the public and position yourself as a trusted source of information. 
Final Thoughts
Brand awareness is key for helping you get the visibility your business needs to build relationships with the public. However, word of mouth is still key in the business world. Therefore, you should always ensure you provide an excellent customer service experience as part of your overall communications or events strategy.