The Ultimate Guide to Keyword Mapping: The Basics and Beyond
Keyword mapping is a crucial step in your marketing strategy. Because it's so important, you'll want to make sure you know what to do and how to do it. This guide will teach you the basics of keyword mapping and how it can help grow your business. We'll start by going over the basics and introduce you to some common tools that can be used for keyword mapping. Secondly, we'll take a look at paid and organic keywords and how they can be used together to map out your strategy. Lastly, we'll break down the process into three easy steps: brainstorming, research, and execution. Let's get started!
The Basics of Keyword Mapping
Keyword mapping is a process that businesses use to identify the best keywords for their businesses. Keywords are words and phrases marketers use to describe products and services. There are many different types of keywords, including search engine optimized (SEO) keywords and paid keyword ads, but both can be used in the same marketing strategy.
The main difference between SEO and paid keywords is the amount of money you should be paying per click. Paid keywords generate more traffic than SEO keywords do because they're more relevant to your target audience.
When you map out your business's keyword strategy, you'll want to think about what your ideal customers are searching for when they come to your site or app. You'll also need to consider how often those visitors will use your service or product and whether it's something that's important to them.
Tools for Keyword Mapping
One of the most effective ways to improve your SEO and make more money is keyword research. Researching keywords can help you find a wide range of potential customers and target ads that meet their needs.
In this guide, we'll cover several different sources where you can find keyword research tools. You'll see how each one can be beneficial to your business. You may want to use these tools in combination with other sources for more accurate results.
How to Map Your Strategy
Keyword mapping is a crucial marketing to for SEO strategy that can help you identify and target your ideal audience. Here's how it works: First, you will brainstorm different keywords for your business. Then create a list of the most popular words people use to search for your business online. Next, you can use these terms as keywords in your site's content so that people looking for your products or services will find them easily. Finally, you'll need to research which keywords are best suited for each type of customer (purchasers vs. non-purchasers) and which are the right match for various industries (retail vs. B2B).
Brainstorming Techniques
Brainstorming will help you to get started with keyword mapping. So just sit back and view everything with a bird's eye view for a minute.
I won't be covering all the different ways that brainstorming can be done as there are thousands of niches and variables, but I'll offer some tips of my own that work as general tips.
First, think about how you want to plan your campaign. What do you want to accomplish? Do you want to target specific demographics? How many people do you want to reach? What are the variables for each person who comes into contact with your brand? Once you have this information, brainstorm different ways to reach those goals.
This is where I like to use Google Trends and get a sense of what my typical audiences look like. For example, when I first launched CuriousCheck, it was important for me to identify which keywords were likely going to work best in terms of influence and search volume. This allowed me to develop strategies that would lead towards success instead of trying something that didn't seem feasible at the time.
Research Techniques
There are two ways to research keywords: Paid Search and Organic Search. Paid search involves using search engines like Google, Bing, or Yahoo to look up keyword research data. This is the best option when you're trying to use a search engine that has a high amount of traffic coming from paid search engines. You'll want to make sure your keywords are relevant to your business and industry. Depending on their relevance will determine if they can be found through paid or organic searches.
When it comes to organic search, however, there's no need for paid searches. The knowledge sources around the web can be used to find relevant keywords and data related to your business. However, only after researching keywords will you know if you can find them through paid or organic searches.
Execution Techniques
Now that you have researched your butt off, you are ready to create the actual map and execute. here is an example of how keyword mapping may look if you're old school and using Google sheets or Excel.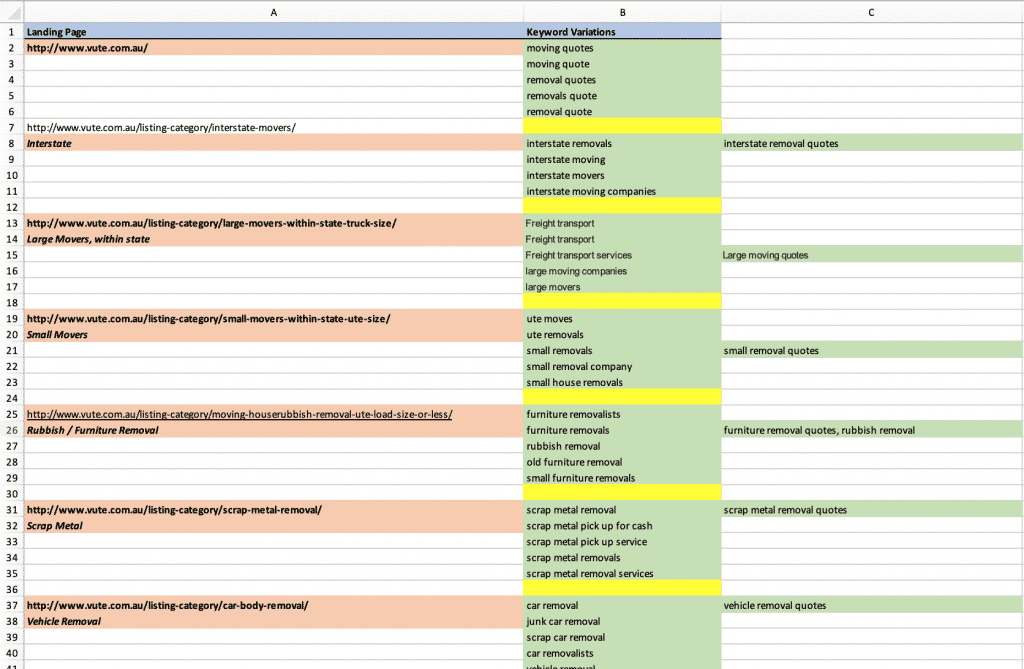 A method I prefer more as I'm more visual is a flowchart style keyword map. You can create amazing charts using LucidChart. 
Each of these columns is assigned a specific on-page SEO element to focus on, so you can make sure that each element is aligned with your ranking goals. If you're using Lucidchart and Googlesheets, you can easily sync both sheets back and forth for further analysis.
Here, simply plug in your high volume keywords in the categories. In the Content pages, simply plug in any subcategories you'd wish to rank for (Also great place for long tailed keyword titles). In addition you can use mapping to optimize images with your keywords, similar relevant terms and much more. 
As you see above, you can easily map out pages, blogs and future content all with a map like this. This will prevent you from creating multiple pages about the same topic, which essentially will make you "compete" and cut your SEO down
Why would the same focused keyword pages and blogs cut down your SEO?
Because Google wants to know what page is the best reference for a specific question or topic. If you have 100 pages about the same exact subject, search engines will be confused as to which page is the MOST relevant to a user's search query…splitting your ranking probability by half or more for competitive words. Below you can see many subcategories and long-tail keywords to use if you were focusing on selling pressure cookers.
Conclusion
Now that you know everything there is to know about SEO, what do you think? Do you have any questions or comments? Let us know in the comments below!