Google Ads and SEO are both great options to get exposure for your product or service. But, they both have several ups and downs.
How do we choose the best tactic to generate traffic for your website? If you want to know the exact way of choosing one, then keep reading! 
What are Google Ads? (PPC)
Google Ads (or Google Adwords) is the Google platform where you can advertise your website. This is created under a pay-per-click, also known as a PPC method. 
When the ad is up and running on Google, you are required to pay a certain amount for each click you get by someone based on your website's traits. This is called cost-per-click (CPC). You're essentially bidding on keywords and/or phrases.
Ok, so you need to enhance your website in order to get it on top of the search engine results. This process involves steps from adding unique and high-standard content to building backlinks to your website. The whole SEO process has 3 main categories to it: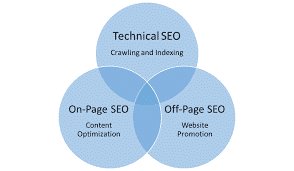 These categories help optimize your site to raise the trust and relevance in Google and other search engines so you show up high organically on Google's SERPs (Search Engine Results Pages). So if you're on page 1 of the SERP that means you're on the first page.
SEO is a path that is only ventured by 36% of businesses.
For a detailed elaboration on how to optimize your website take a look at this. (How to show up on the first page of Google) Insert link. 
Pros and cons of Google Ads
Pros :-
Google Ads let you get immense traffic to your website just after your ad is active on google. 


You can do a thorough data analysis of your traffic, click rate etc. easily with Google Ads letting you track how your efforts are paying off. 


The leads you are looking for might not necessarily click your ad. However, they will definitely see your brand. In fact, according to a Google Ads study, these campaigns lift the brand awareness by 6.6 percentage points. So, if you are in this for a quick exposure, this might not be a bad idea. 


You can retarget the visitors once reached your website and show them a new ad including something profitable. For example your new ad could be informing about a price reduction. 


The adverts require a larger space in search results, which can be customized with absolutely better looking snippets. 


You can gain a whole new insight of your visitors, the keywords you should use and how the landing pages should be for better results.


You are the one who is in charge. Because you can choose your budget and turn on and off your adverts whenever you need. If you are a small business you can spend your money carefully with setting appropriate goals. 
Cons :
If you can't afford the ads, say goodbye to your campaign. The minute you fail to pay, you lose the exposure. 


Whether the prospect conversion (Customers who end up buying your service or product) happens or not paying for every user's click is a must. Not to mention, because the ad campaign industry is cutthroat, your CPC can skyrocket. If your campaign budget is lower than the required amount to get on top, then you can relax on the 2nd page of Google. 


The advert limitations can be sometimes overwhelming. You should be able to stack up a lot of info into a small ad space with limited characters. 


Use negative Keywords wisely. Negative keywords allow the search engine to limit your ads to be shown to that particular audience as your service or the product may reach the wrong crowd.


Although the ads help you to reach the top of the search engine results, your landing pages have to be in great standard. Otherwise, you won't have the traffic you've anticipated.


Your ad makes you reach a new audience. But, it is not long term.


Google Ads are time consuming and they need to be maintained daily with a long brainstorming of agreeing to Google policies. So you might need an expert to dodge all these prohibited practices. 
Pros :
No need of paying per clicks whatsoever. You just have to have a top-notch website filled with insanely high quality content, keywords and speed. 


Assuming your website is packed with quality content, you can reach a specific target audience with the SEO and give them great solutions. 


The trust you gain with organic traffic is worth the wait. Organic traffic raises the conversion rate more than ads. 


Your traffic will be always growing according to your content quality and quantity. 


A good SEO plan would make you appear on the search results more than the Google ads. 
Cons :- 
Because it takes more or less 6 months to succeed with SEO keyword ranking on page 1 of Google, it can be frustrating for some.


SEO is like a tree which takes time to bear fruits. The longer you wait the higher your traffic will be. 


Google respects and supports people who have unique and quality content. Therefore, without a better SEO plan, Google algorithm updates, such as Panda, Hummingbird and Penguin can take your website off the map just like that. So if you are just in it for the game, you might not make it. 
So, which is better?
Before deciding on what's the best option, let's see how they can be intertwined. 
As the keyword research is a must for both SEO and PPC, it should be properly done for both campaigns in order to be successful. 
On one hand, PPC can be a great source of data gathering, therefore you can create personalized ads and the exact content the users are searching for. 
Ads can make you retarget the leads once visited your website pushing you to be more personalized.
The other most important part is that, with PPC you can change and improve the ads comparing whether they actually work with your target audience. Using this method you can tweak your SEO plan and create more engaging content for your website. 
The bottom line is, no matter how pleasing your ad is, you need a well optimized website with credible content. 
But as I've mentioned before, it is not a bad idea to use both. 
To conclude, If you need quick results go with PPC. But if you need to grow your revenue while establishing loyal customers in the long run, then definitely go for an outstanding SEO plan. 
Afterall, Patience is a virtue.